What Is an ISMN?
The International Standard Music Number (ISMN) is a unique number for the identification of all notated music publications from all over the world, whether available for sale, hire or gratis--whether a part, a score, or an element in a multi-media kit.
The ISMN is designed to rationalize the processing and handling of notated music and the respective bibliographical data for publishing houses, the music trade and libraries.
As of 1 January 2008 the ISMN consists of 13 digits starting with 979-0
Existing 10-digit ISMNs are prefixed by 979-
The leading M- of the 10-digit ISMNs will be replaced by 0- (zero)
The resulting 13-digit number will be identical with the EAN-13 number that is currently encoded in the bar code
ISO Standard 10957 gives the basic rules of the ISMN system. The thirteen-digit number allows a billion items each to carry a different number.
See also our News section, November 2007.
Please, note:
Before January 1, 2008 the ISMN consisted of four elements comprising ten digits,
for example, M-2306-7118-7
M the prefix M which distinguished the ISMN from other standard numbers;
2306 a publisher ID which identifies a certain music publisher;
7118 an item ID which identifies a certain item of notated music; and
7 a check digit which validates the number mathematically.

The old ten-digit as well as the new thirteen-digit ISMN can be converted into a bookland code and printed with a scanner raster:
Example of a barcode with 13-digit ISMN: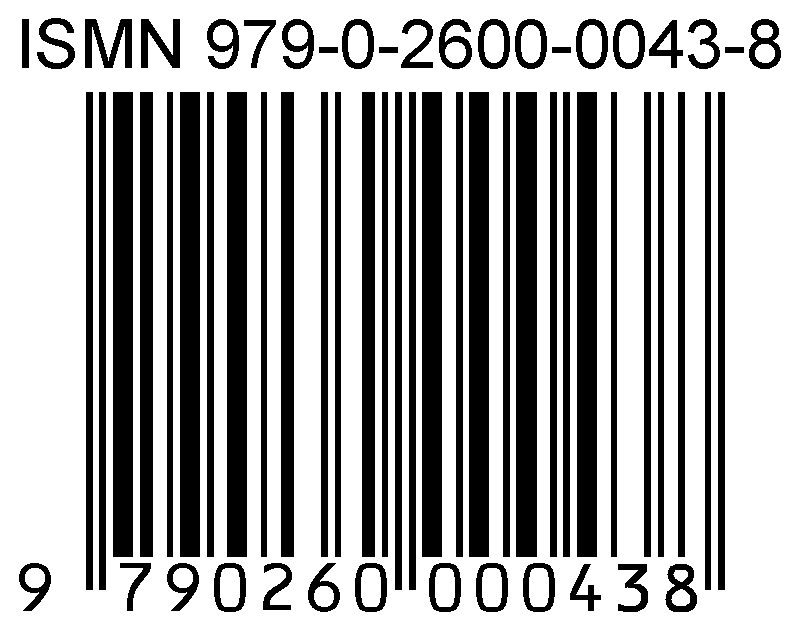 Example of an old barcode with 10-digit ISMN